This is the page where my imaginary city named Hinto is introduced.
---
I started "Hinto City" in March 1998. I was influenced by my friend, Michael, who was also working on a map (his city was named "Tinto"). We worked on each other's city together, and under his advise and suggestion, "Hinto City" is now much developed. It's now in a region called "Hinto Territory" or "Greater Hinto".
Scroll down to view each section, or go straight towards...
Map of Downtown Hinto
Map of Hinto Territory
Hinto Territory Development Plan 2002
Hinto Inter-City Subway System (HICX)
Press Media (Television)
---
Maps on the City
The above is a view of downtown Hinto City. There are a few remarkable buildings, but maybe you can't see them.
Buildings (not arranged in apparent order):
---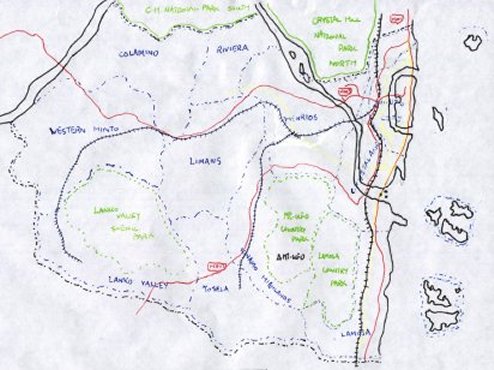 The picture wasn't scanned well, thus you can see the borders between cities clearly but not their names. I put a list of their names below, in order to let you have a clearer idea of what they're called.
Names of the cities in Hinto Territory (arranged in alphabetical order):
---
Hinto Territory Development Plan 2002
The facilities below are going to be constructed inside Hinto Territory:
Collingson International Airport (construction site: undecided, but probably in the Limans-Yosela area)
---
Hinto Inter-City Subway System (HICX)
HICX is the subway system that runs in the Greater Hinto area.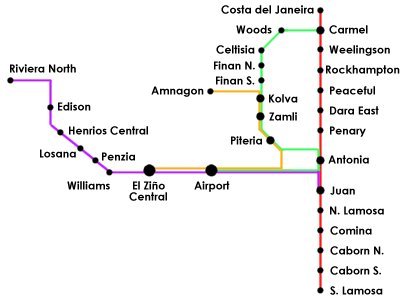 ---
Press Media (Television)
Call Letters:
HMTB-TV
Dial Position:
4
Digital Television Channel:
48
Station ID:
Metro 4
Name of News Operation:
"METRO 4 News Now"
News Theme:
"NewsSeries 2000" by Frank Gari
Slogan:
"More News 4 HINTO"
Chopper:
Yes, "MetroChopper"
Network Affiliation:
Illonian National Television (INT)
Ownership:
Illonian National Television (INT)
Call Letters:
HYTO-TV
Dial Position:
5
Digital Television Channel:
32
Station ID:
HiNTO 5
Name of News Operation:
"HiNTO 5 News"
News Theme:
Carlton/LWT "London Tonight" 1993-1998 theme (composer unknown)
Slogan:
"Hinto's Most Trusted News Coverage"
Chopper:
Yes, "SkyVision 5"
Network Affiliation:
Honing-Olympus Network (HON)
Ownership:
Hinto Television and Radio, Inc. (controlled by Honing-Olympus Media)
Call Letters:
HLTE-TV
Dial Position:
7
Digital Television Channel:
35
Station ID:
i-7
Name of News Operation:
"7 i-Witness News"
News Theme:
Current WPIX "WB11 News at Ten" theme by Non-Stop Music
Slogan:
"Your 'i' on Hinto"
Chopper:
Yes, "Sky i-7"
Network Affiliation:
Illionian Independent Television (IITV), re-branded as "i-Channel"
Ownership:
Hawk Broadcasting
Call Letters:
HSBN-TV
Dial Position:
8
Digital Television Channel:
50
Station ID:
SBN Hinto
Name of News Operation:
"SBN Hinto News"
Slogan:
"The City's News Leader"
Chopper:
Yes, "SuperCopter"
Network Affiliation:
Super Broadcasting Network (SBN)
Ownership:
Super Broadcasting Network (SBN)
Call Letters:
HTCT-TV
Dial Position:
9
Digital Television Channel:
40
Station ID:
UTB9
Name of News Operation:
"NewsCenter 9"
News Theme:
"Image News" by Frank Gari
Chopper:
Yes, "Air 9"
Network Affiliation:
United Television Broadcasts (UTB)
Ownership:
United News and Media Illonia (parent company of UTB)
Call Letters:
HIMB-TV
Dial Position:
29
Digital Television Channel:
/
Station ID:
HIMB29
Name of News Operation:
"Channel 29 News" (since it's a multilingual station, this name would be translated into several different languages)
Network Affiliation:
Independent/ Multi-lingual
Ownership:
Mingpao Illonia