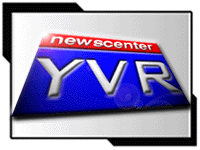 TVYVR needs your help!
Please email the tipline for any INSIDER INFORMATION or CORRECTION.
Anonymity will be guaranteed upon request.
Alternatively, you can post any articles of interest at the CDN:TV Forum.
Articles published in September and October 2001 are now archived.
---

1/17/2002: New News Director At CH
According to an anonymous insider, Rob Germain has been named as CHEK-TV/6 CH Victoria's new News Director, replacing Ian Haysom. Haysom moved to CHAN-TV "BCTV News on Global" in November 2001 as that station's ND.
Germain was promoted from the Assignment Desk.
Also, an official announcement will soon be made on the station's new news bureau in Port Alberni.
UPDATE (1/18): More info on Germain's appointment in today's Times-Colonist.
---

1/17/2002: New Graphics on 'ckvu News'
CKVU-TV/10 'ckvu13' has updated the graphics for its newscasts. The new graphics range from lower-third name tags and full-screen graphics to tease graphics and new open animations*. However, the basic wire-frame globe motif and the colour scheme of dark blue and gold from the 'Global News' era were retained. In fact, the wire-frame globe itself seems to be even more prominently featured, now appearing even on lower-thirds and full-screen graphics. The news theme that has been in use since mid-September 2001 remains. There is still no on-screen bug during the newscasts.
Screenshots and possibly videos of new look 'ckvu News' will be available on this site shortly.
*Correction: It should be 'new segment open animations.'
---

1/8/2002: Changes to VI Land News
CIVI-TV/53 The New VI's news operation, "VI Land News," underwent several changes yesterday. Its hour-and-a-half early evening news block is now split into 3 separate sections. The 5:30-6pm block is now called "VI Land Live." It is anchored solely by Tasha Larson, although she now seems to interact with other reporters and videographers more than before. The news stories, sports report and weather forecasts are not very detailed, as they are now only brief previews to the full content at 6:30.
Moe Sihota's duty is now restricted to only hosting "VI Land Voices," which has been bumped up 30 minutes to the 6-6:30pm block. His appearance on "VI Land Live" is no more than a preview to "VI Land Voices."
A more detailed news report goes on at 6:30 and ends before 7, still solo-anchored by Tasha Larson.
In terms of presentation, there are new open animations for the station's newscasts. However, the news theme and the other existing news graphics remain. A new on-screen bug that bears the "VI Land News" logo now resides in the lower-right corner of the screen during the newscasts, blending in with other graphics such as the lower-third name tag. It also seems that the news operation now has a slogan: "Live, Local, Out There!", which is apparently a mixture of one of the station's existing slogans ("Out There!"), and that of Citytv, CIVI's sister station in Toronto ("Live, Local, Latebreaking"). It is not certain whether or not this is an official slogan, as there is no aural mention of it for the duration of the early evening news block. However, it appears visually on at least the open titles to "VI Land Live."
The station's morning program, New Day, doesn't seem to be affected by any of the changes.
Update (1/20/2001): Screenshots and videos of "VI Land Live" and "VI Land News at 6:30" are now available.
(Thanks to David E. Nelson)
---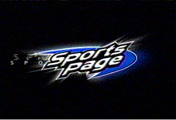 The new look of Sports Page was unveiled last night. Frankly, it wasn't much of a new look in terms of on-air graphics.
12/17/2001: New Look "Sports Page"
The new look of "Sports Page" was unveiled last night. On-air graphics and the open were only slight modified, and the theme remained. The most noticeable change to the program was its new set, which resembles the CH News set over in Victoria. The program itself is now produced at the Global BC studios in Burnaby. For more background information on the program, please see the article dated December 15.
Screenshots and Real videos of new look "Sports Page" will be available on TVYVR shortly.
---
12/15/2001: New Look "Sports Page" On The Way
Last night, in signing off "Sports Page," Shane Foxman said that starting Sunday night, the program would be produced at the Global BC studios in Burnaby, and a new on-air look for the program will also be unveiled. "Sports Page" had been seen on CKVU for 24 years, until the massive affiliation switch in September when the show moved to CHEK-TV. However, the program continued to be produced out of the CKVU studios on 180 W 2nd. The studio change tomorrow will officially cut all remaining ties "Sports Page" has with CKVU.
Stay tuned for TVYVR's coverage of new look "Sports Page."
---
12/6/2001: CKVU's Website
CKVU-TV, "ckvu13," has launched its website at www.ckvu.ca. Currently the site only features minimal information, including a schedule grid and contact information. TVYVR will continue to track any new developments on the website when they become available.
(Thanks to informant David Nelson)
---
11/20/2001: CHAN's New ND
Ian Haysom, the current News Director at CHEK-TV "CH News" in Victoria, will move to the same position at sister station CHAN-TV "BCTV News on Global" in Vancouver. Haysom replaces Steve Wyatt, who moves on to become Global's manager of BC Operations. This will officially take effect December 3rd.
Haysom arrived at CHEK-TV 3 years ago as the station's news director. During his reign, he revamped the station for the switch to "CH," and maintained the station's dominant status on the Island, despite the arrival of newcomer CIVI "The New VI." No replacement has so far been announced for CHEK's ND position.
Click here for the Times-Colonist story on 11/10.
---
11/19/2001: New GM at CKVU
CHUM Television announced last Tuesday the appointment of Brad Phillips to the position of Vice-President and General Manager at CKVU-TV. Earlier he had been the Program Director at CKZZ-FM Z95.3 in Vancouver. More from CHUM Television's press release.
CHUM's acquisition of CKVU was approved in October.
---
11/10/2001: News Briefs
New Job For Global ND
Stickguy reports that Steve Wyatt, the current News Director at CHAN-TV/8 Global BC, is named Manager of BC Operations for Global Television (includes CHAN Vancouver, CHEK Victoria and CHBC Kelowna), replacing Jack Tomik (who is now president of CanWest Media Sales). No word yet on any replacement for the ND position.
Updated Graphics at BC CTV
On Wednesday BC CTV updated its lower-third name graphic, the "locator" graphic (in the top left corner) and the "live" graphic. The new lower-third now resembles the ones used on CTV National News and CTV Newsnet. Other graphics (eg. OTS, full-screen, etc.) remain the same. And of course, they've been using TSN graphics during sports report for some time now (even using the TSN mic flag).
---
11/3/2001: In Other NW News: "This is Q13 News @ 10"
KCPQ-TV/13 in Tacoma/ Seattle, Washington, had officially changed the name of its news operation from "Q13 Reports" to "Q13 News" Thursday night. A new open and bumper graphic were introduced; however, other graphics (lower-thirds, OTS, weather graphics, etc.) remained the same. The theme music, "Reactor" by Non-Stop Music, also remained. Reporters now sign off from their packages IDing themselves as "Q13 News."
The switch to Q13 News had been hinted for some time now. On some of the promos the station ran during the Major League All-Star Game in July, its news operation was referred to as "Q13 News." Then in early September, the station's morning show "Mornings Live on Q" was renamed "Q13 Morning News." Q13 News promos have been running for at least the last several days as well.
KCPQ's news operation had been known as "Q13 Reports" since its inception back in 1998.
---
Television News in Vancouver: Right Here. Right Now.