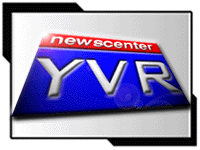 TVYVR needs your help!
Please email the tipline for any INSIDER INFORMATION or CORRECTION.
Anonymity will be guaranteed upon request. Please specify if there is any part of your message that you don't wish to be published.
Alternatively, you can post any articles of interest at the CDN:TV Forum.
NewsCenter YVR Archives:
September - October 2001
November 2001 - January 2002
February - March 2002
---
9/24/2002: Benita Ha Off CityPulse
There have been words floating around, and now it's official: Benita Ha was let off Citytv's weekend newscasts 2 weeks ago, along with the weekend producer and director. Mark Docherty has been named for that spot.
(UPDATED: 9/27)
Update: Still No Official Replacement for Lui at CH
Anonymous insider also tells TVYVR that the decision as to who will officially take over the late newscast on CHEK/6 has yet to be made. Apparently the News Director is going through resume tapes, which makes it a possibility that the station will hire from outside. More information to come as it becomes available.
---
9/17/2002: CIVT GM To Become President of CTV News
Robert Hurst, the General Manager of CIVT/32, was appointed as the president of CTV News by Ivan Fecan, CEO of CTV, Inc. Hurst will be responsible for CTV's network news and information output, including CTV News with Lloyd Robertson, W5 and Canada AM. He will replace Kirk LaPointe, who left the position for other interests. Although Hurst's appointment is effective immediately, he will not move to Toronto until early November during a transition period. A replacement for CIVT's GM position has not been announced yet.
Before coming to Vancouver, Hurst was the Senior VP of CTV News. He became CIVT's GM 2 years ago, as the station was preparing to become the province's new CTV outlet.
Complete press release from CTV
---
9/9/2002: MVBC Finds Home In Chinatown
Multivan Broadcasting had announced that the yet-to-launch multicultural station will locate its studio facility at 88 E Pender Street, at East Pender and Columbia. The station will occupy the 3 floors of the building, using the main floor as its studio to give pedestrians a peek at the production facility as they walk down the street outside the building. Renovation will begin this month, and as of current the station expects to go on the air by late spring 2003.
For more information head to www.mvbc.ca.
---
9/9/2002: Changes At BCTV News on Global
Global BC has updated its news graphics today. Except for the morning news, the open animations have been changed for the other newscasts, although still retaining the same colour scheme, news theme music and voiceover. However, the circular disk that bears the "BCTV News" text is no longer used (outside of the morning news open). The lower-third name graphics, which otherwise remain the same, now bear a white Global arc rather than the disk. On the other graphics (full-screens, tease graphic, etc.) the disk is replaced by the "BCTV News on Global" text. Video and screenshots of the updated graphics will be available on TVYVR soon.
Also, Sophie Lui has begun her reporting duties on Global BC. She previously anchored the "CH News Final" on CHEK-TV/6, Global BC's sister station on the Island. As of yet, TVYVR has no information of who at CH will permanently take over the anchoring duty on the late news. More information will appear on the site as it becomes available.
---

8/27/2002: The Ratings Battle: Summer 2002
The Bureau of Broadcast Measurement had released the latest rating figures for local TV newscasts. The figures were measured from July 22 to August 18:
Summer 2002
Fall 2001
Morning:
CHAN-TV
("Morning News")
37,000
29,940
CKVU-TV
("Breakfast Television")
3,500
n/a (did not exist)
CIVT-TV
("CTV Breakfast")
n/a (defunct)
6,810
6pm:
CHAN-TV
("News Hour")
160,000
197,190
CIVT-TV
("CTV News at Six")
36,000
42,910
CHEK-TV
("CH News at Six")
25,000
44,450
CBUT-TV
("Canada Now": National section + regional section)
23,000
(34,000-37,000)
CKVU-TV
("CityPulse at Six")
~23,000
31,630
(as "ckvu News")
CIVI-TV
("VI Land News")
3,000
n/a (did not exist)
11pm
CHAN-TV
("News Hour Final")
78,000
76,380
CIVT-TV
("CTV National News")
57,000
70,310
CKVU-TV
("CityPulse Tonight")
20,000
n/a (did not exist; 12,540 in fall 2001 when newscast was at 11:30pm)
(Summer 2002 figures for any of the noon or 5pm newscasts, CIVI's morning and 11pm broadcasts or CIVT and CHEK's 11:30pm newscasts were not listed. Comparison against fall 2001 figures may be flawed because of seasonal changes in audience, especially in the summer when many viewers are away on vacation. Fall 2001 figures are provided nonetheless where available.)
CHAN-TV continued its dominance in the local TV news scene, and actually gained ground in day-parts like the morning and late night. CIVT-TV is holding its place at second, while CKVU-TV remained at last place, slightly behind CBUT and still struggling without popular Global lead-ins. However, CKVU gained audience for its late news. Incidentally, the ratings period began on the same day as CKVU's re-launch as Citytv. On the Island, CHEK still outpaced CIVI by a wide margin.
The ratings figures are courtesy of Alex Strachan/ Vancouver Sun.
---
8/20/2002: New Additions at CKVU
Steve Scarrow, who was the Director of Marketing for Corus's Vancouver radio stations (CKNW/CFMI/CFOX/CJNW), had been appointed as Promotion Director for CKVU Citytv Vancouver. He had also been Director of Marketing at Standard's CKZZ/CISL, Promotion Coordinator for CKNW, and Copywriter and Promotion Director for CFMI.
Meanwhile, the station's local production will see an increase as fall arrives. CityCooks, the station's cooking show, will debut on Monday, August 26 with Simi Sara as the host (she is already the news presenter on Breakfast Television). The show will go from 12noon to 12:30pm weekdays. Also, Ethnosonic with Trevor Chan will debut on September 7 with a look at multiculturalism through world music videos, while DiverseCity with Prem Gill will premiere on October 6 with insights into local issues and cultures, also with a multicultural feel to it.
Thanks to Channel Canada
---
8/3/2002: Ravi Baichwal's Last Day At CIVT
Yesterday was the last day at CIVT for Ravi Baichwal, the co-anchor of the station's 5pm newscast alongside Colleen Christie. Both Tamara Taggart (who was ending her weather segment on location) and Colleen Christie (who was sitting in the armchairs with her co-anchor after the entertainment segment) expressed how much they would miss him, and Baichwal thanked the team and the viewers. As they tossed to Pamela Martin at the desk for the 6pm news, Martin also pointed out it would be the last time she said "Thanks Ravi and Colleen."
Baichwal came to CIVT in September 1999 as the co-anchor on the station's 6pm newscast. He was moved to the 5pm newscast during the affiliation switch last year. He is leaving the station for CTV Newsnet. No replacement for him had been made aware to this site yet.
---

7/31/2002: "VI Land Live" Expands
In today's Province, TV writer Dana Gee reported that CIVI-TV/53, "The New VI" in Victoria will expand its VI Land Live program to a full hour starting next Tuesday. The newscast will begin at 5pm; currently it begins at 5:30pm. No staffing changes have been announced. The expansion will put CIVI's newscast in full competition with CHEK/6 during the 5 o'clock hour. More information will be posted here as it becomes available.
---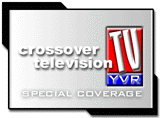 7/22/2002: Crossover 2002: From ckvu13 to Citytv
(Update: 7/24)
This morning at 6am, CKVU-TV officially switched from ckvu13 to Citytv. Here's how it went:
July 21:
The last ever full newscast under the name of "ckvu News" went on at 6pm. Mark Docherty was the anchor. At the end of the newscast, Joe Leary gave a plug for next morning's Breakfast Television. The chroma-key effect was turned off to reveal the (very untidy) corner of the studio from which the station's newscasts had been produced since May, including the green chroma-key wall.
July 22:
An hourly news break went on at around 5:58am under the name of "ckvu News" for the last time ever, presented by Mark Docherty. After a minute or so, the last ever ckvu13 ident was shown. The ident shown was one of the last ones from the "Under Construction" series in which Moses Znaimer blows up ckvu13. Afterwards, at about 6am, the sign-off of ckvu13 was announced, followed by Moses Znaimer blowing up ckvu13 once again. Only this time, after ckvu13 was blown up, it cut to various fast-motion scenes of Vancouver. After about 10 seconds, an announcer proclaimed, "Vancouver, strap yourself in. Citytv is on the air.", as the sequence ended with the camera (still in fast motion) going into the studio building and taking one last shot at the Citytv logo on the floor of the reception area.
After the sequence, Breakfast Television's open animation was shown, and the first ever edition of BT came on. Michael Eckford and Fiona Forbes were the main hosts, while Simi Sara handled news, traffic and weather from the CityPulse newsroom, and Jeremy Dunn with "Live Eye," which seems to be some sort of feature segment (today he was at the Concorde Pacific Place checking out the preparations for the Molson Indy). Guests on the first show included Moses Znaimer, and the crew from The Vancouver Show, which was of course one of CKVU's original programs back when the station first launched. As reported earlier, Bob Robertson and Linda Cullen (the "Double Exposure" duo) stepped aside from hosting duties for the show. And today's Vancouver Sun quoted from the station's spokesperson Susan Kerschbaumer the reason as being the lack of chemistry between them and the "Urban Rush" duo.
(UPDATE: 7/23)
The first ever edition of CityPulse went out at 6 Monday night, presented by Russ Froese. Elaine Yong (consumer beat), Marke Dreisschen (weather), Dan O'Toole (sports) and Darrin Maharaj (entertainment) were all featured on the open animation, along with Russ Froese. There is no on-screen bug throughout the newscast. Graphics are similar to the previous "ckvu News" ones (used right up until the switch), and the news theme, reminiscent of the one used on Citytv Toronto, bears a vague resemblance with some elements of the theme from the movie "Rocky." Monika Deol and Benita Ha were in studio, talking respectively about their late night and weekend CityPulse newscasts. Darrin Maharaj interviewed Pamela Anderson from her LA home as the entertainment piece. The newscast still ended with a rundown of the night's programs, seemingly a CKVU tradition.
The first edition of CityPulse Tonight with Monika Deol went on at 11. The open animation, except for Monika Deol's shot, is very much the same as the 6pm open, even including the shot of Dan O'Toole, who doesn't report the sports at 11 (Mike Bow now does). The graphics are just about the same as the ones used at 6, only reading "CityPulse tonight" rather than just "CityPulse."
There was a minor graphic change on Breakfast Television Tuesday morning. The "BT" and the "Citytv" on-screen logos swapped places, resulting in the "BT" bug now at the top right and the "Citytv" bug at the bottom right. The time and temperatures were still sandwiched in between the two, along the right side of the screen.
On the presentation side, there has been some kind of idents on the re-launched station which emphasizes the "Everywhere" theme, including ones shot in Chinatown and at a Greek wedding.
On the web, www.ckvu.ca now auto-directs to vancouver.citytv.com.
More updates on Crossover 2002 may follow if there is any new developments regarding the station. Videos and screenshots of the new Citytv will also be available on this site soon. Stay tuned.
---
7/18/2002: CityWatch: Robertson and Cullen Out As BT Hosts
There had been words on the CDN:TV Forum (before it became inaccessible) that Bob Robertson and Linda Cullen, former hosts of "Double Exposure," were out as hosts of Breakfast Television, before the show even went on air on the re-launched CKVU. Now TVYVR had received confirmation that the above is indeed true. There seems to be evidence supporting that report, as we also heard words that the giant BT "mural" outside of the CKVU building had been taken down (as it included Robertson and Cullen), and Nelson Media reported on the CDN:TV Forum that the minute-long Citytv pre-launch promo (which can be viewed here) had been edited to exclude the parts showing Robertson and Cullen. Also, neither Robertson nor Cullen is listed in the Personalities section of the almost-completed City Vancouver website, while Michael Eckford and Fiona Forbes, the other 2 hosts, are. To recap, Bob Robertson and Linda Cullen are out as hosts of Breakfast Television, which still has yet to launch. TVYVR will bring you any other last minute development as CKVU becomes Citytv.
Side Note: As you may have guessed from reading the above article, City Vancouver's website is getting closer to completion. Just about all information regarding City Toronto had been removed from the Vancouver site (and is now in its own section).
---
7/1/2002: "CTV9"? Or Is It Just "CTV"?
As reported earlier, today Canada Day is the day CIVT is to change its on-air name from "BC CTV" to "CTV9." However, so far it seems that all regional references have been eliminated from the station's name. Along with being simply "CTV" outside of news, there is now no on-screen reference to either BC or cable channel 9 inside of news either. The opening animation now reads only "CTV News," and the on-screen bug is changed to a lonesome CTV logo. The only place today where the "CTV9" logo was anywhere to be seen was on the banners outside of the station's outdoor broadcast booth at Canada Place. The news graphics remain unchanged.
If the "CTV9" logo becomes more widely used on the station, we will be here to report it.
---
Television News in Vancouver: Right Here. Right Now.