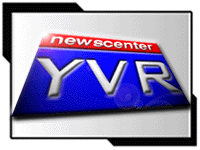 TVYVR needs your help!
Please email the tipline for any INSIDER INFORMATION or CORRECTION.
Anonymity will be guaranteed upon request. Please specify if there is any part of your message that you don't wish to be published.
NewsCenter YVR Archives:
September - October 2001
November 2001 - January 2002
February - March 2002
April - June 2002
July - September 2002
October 2002 - February 2003
---
6/27/2003: Channel M Is Here
Throughout the day today, Greater Vancouver Shaw cable subscribers have found a full-screen caption announcing CHNM/42 Channel M's 7pm launch on cable 8. Meanwhile, cable 72, the supposed new location for for the displaced CTV NewsNet, remained inaccessible as of 9pm.
During its 6pm newscast, CIVT had a story on Channel M. Channel M's GM Art Reitmayer and news staff were interviewed, and brief glimpses of the station's news graphics and set were included. CIVT is involved in a news-sharing agreement with CHNM.
The full-screen caption on cable 8 had been replaced in the first half of the 6pm hour with an animated full-screen graphic, with circular texts radiating out from a certain point on screen, and translucent lower-case m's drifting across the screen over a blue background. There was a "Channel M" bug in the lower-right corner of the screen, and a ticker occasionally scrolled along the bottom, reading "CTV News 1 can now be seen on channel 72", referring to CTV NewsNet by its old name.
At 7pm, the full-screen graphic was replaced by a video of the Vancouver's Children Choir singing "O Canada" at a local beach. Following that, an hour-long introduction to Channel M began, hosted by Dennis Simpson (who served briefly as the Live Eye Guy on Citytv's Breakfast Television). The program started by talking about the need for a multi-cultural station in Vancouver (including listing some of the stats found on the station's website), followed by a look into its news team, its co-operation with local independent producers to bring diversity to local television, its English program lineup, its culturally diverse staff, and lastly programming highlights from the station's first weekend on air. Regular schedule, including local news production, will begin next Monday.
Station IDs revolve around dances from different cultures, with different styles of jingle using the same signature notes.
---
6/27/2003: The Latest on Channel M
In Greater Vancouver, instead of CTV NewsNet, viewers now find on cable 8 a full-screen caption announcing Channel M's 7pm launch. It also announces that CTV NewsNet would be moved to cable 72, bumping TalkTV to cable 90, which in turn bumps BookTelevision to cable 128. However, as of 9am, cable 72 is still inaccessible. No word yet on how the shuffle on the Island goes.
6/26/2003: Channel M's website has been updated with pictures of the station's building and news set, as well as the programming schedule. The station will launch tomorrow night at 7pm with apparently a special. It looks as though the station's newscasts will not debut until next week.
6/25/2003: Channel M's radio promotion has started. An ad for the station was heard this morning on 103.5 QM/FM. The tentative cable 8 position was mentioned.
6/24/2003: CHNM/42 Channel M had announced that its interim position on the cable dial will be channel 8 in the Lower Mainland, and channel 10 in Victoria and Nanaimo. Currently in the Lower Mainland, CTV NewsNet occupies cable 8, while cable 10 in Victoria provides TV listings, and cable 10 in Nanaimo is occupied by TSN, according to Shaw's website. As of yet it is unknown to which channels they will move, or whether the aforementioned positions for Channel M will become permanent.
The same press release mentions that the station will launch this Friday at 7pm.
---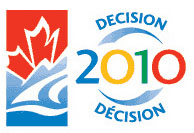 6/23/2003: Road to 2010: Coverage Plans
(UPDATED)
The IOC will announce its decision on the host city for the 2010 Winter Games next Wednesday, July 2nd at about 8.30am Pacific. As that day nears, some local stations have announced their plans for the coverage of the announcement.
CHAN (Global): Coverage will begin at 5.30am, the normal time for the Morning News, and will continue until 10am. Not much detail has been announced.
CKVU (Citytv): There will be a CityPulse special report on Tuesday, July 1st at 6.30pm. The next morning, Dag Sharman, and Breakfast Television's Michael Eckford and Fiona Forbes will be live at GM Place; Mark Docherty will be on Robson Street, and Shane Foxman will be in Whistler. Coverage starts at 6am.
CIVT (CTV): Live coverage on Tuesday morning will begin at 7am from Canada Place, with Pamela Martin, as well as Lloyd Robertson and Rod Black from the network. According to Red Robinson's column in TV Times, Mike Killeen will be in Prague, where the announcement will be made. Live reactions from GM Place and Whistler will also be covered. Coverage will end at approximately 10am, according to the station's website.
Other stations' plans are not known to the webmaster yet.
---
6/20/2003: The Latest on Channel M; and Schedule Changes at Fairchild
Northwest Broadcasters reports that Channel M is already showing color bars on CHNM/ Channel 42. The station is scheduled to officially launch next Friday, June 27. So far its cable position is still unknown.
Over at Fairchild TV, the Cantonese cable station, some schedule changes are being made, probably in anticipation of Channel M's launch. The station's main newscast will move from 7.30pm to 7pm, and there will be a new 15-minute bulletin at 11pm with news from Western Canada. Since the single national feed began in July 2001 in compliance with the CRTC, much of Fairchild's evening newscast has been coming out of Toronto, with its crew in Vancouver handling stories from Western Canada and the Greater China region. The changes will take effect next Monday, June 23.
---
6/12/2003: More on Channel M
A promotional feature for Channel M, the soon-to-launch multicultural broadcast station in Vancouver, is included in this week's issue of TV Week (available in Adobe Acrobat format here). Here are the highlights:
Live daily Cantonese, Mandarin and Punjabi newscasts during primetime at 8, 9 and 9.30pm respectively; from what TVYVR has learned, the morning newscasts will be rebroadcasts of the ones from the previous night, with live updates
Live Korean and Tagalog newscasts at 10pm on Saturdays and Sundays respectively
News personalities include Karen So, Endora Fan and Iris Tong for the Cantonese newscast (all formerly of Fairchild Vancouver); Quan Gu (Mandarin) and Jasbir Cheema (Punjabi)
English programming include Nash Bridges, Magnum PI and Rockford Files in the early afternoon; King of the Hill, The Simpsons, Wheel of Fortune and Jeopardy! in early evening/ prime access (the former two also on during the 10pm hour); and Inside Edition and The Late Show with David Letterman during late night. (Simultaneous substitution, although not indicated, may probably be arranged.)
However, as of yet the station's cable position is still unknown (the station will be on air channel 42). In the meantime, TVYVR will continue to follow any developments leading up to the launch of Channel M, scheduled for Friday June 27.
---
6/5/2003: Russ Froese's Last Night At CKVU
As reported earlier, tonight was Russ Froese's last night at CKVU, after 15 years as the station's lead anchor. Throughout tonight's 6pm newscast, there had been several mentions of Russ's departure, including interviews on the street about what people thought of Russ (or whether they recognized him from a picture), and other presenters' remarks on their pleasure of having had worked with Russ, and how much they would miss him.
After the sports report with Shane Foxman, Marke Dreisschen appeared in the main studio (as opposed to the roof where he normally does the weather) to introduce David Kincaid's tribute to Russ. The tribute began with the station's various former news open animations featuring Russ, leading into interviews with his former co-anchors Tamara Stanners and Jennifer Mather about their memorable moments with Russ. Anchors from competing stations, like Pamela Martin from CIVT (also on behalf of Bill Good), Gloria Macarenko from CBUT and Tony Parsons from CHAN even set aside newsroom rivalries as they wished Russ the best of luck during the tribute. After the tribute, numerous members of the CityPulse news team gathered around Russ in the studio and gave him a round applause, as he remarked that the thing he would miss the most was the people he worked with, and thanked viewers for watching. He signed off from his last newscast saying, "The measure of a man is the friends and the respect he picks up along the way, so I am a very rich man tonight." The newscast closed as Russ cut into a cake.
The Vancouver Sun reported that Mark Docherty would take over as the 6pm anchor until a permanent replacement is announced. In the meantime, TVYVR once again would like to wish Mr. Froese all the best in the future.
Video of the aforementioned tribute will be available on this site shortly.
---
5/30/2003: Russ Froese Leaves CKVU
Broadcaster Magazine reports that CKVU's lead anchor, Russ Froese, will leave the station. He has been at the station since 1988, currently as the anchor on CityPulse at 6pm. He has not announced where he would go next, but he has expressed intentions of producing documentaries and other such projects. He had worked for CKNW-AM, BCTV and CBC before coming to CKVU. His last day at CKVU will be Thursday, June 5. As of yet, no replacement has been named. TVYVR wishes him best of luck in his future endeavors.
Source: Broadcaster Magazine, via Nelson Media
---
4/23/2003: Jocelyn Laidlaw Leaves CKVU
TVYVR has learned that CKVU-TV reporter Jocelyn Laidlaw had left the station for an anchor position at CFCN-TV, the CTV station in Calgary. While at CKVU, she had covered many court trials, including the preliminary hearing of the Robert Pickton case, and she had also filled in as a back-up anchor on several occasions. TVYVR wishes her the best of luck in Calgary.
---
4/4/2003: Call Sign For Channel M?
Nelson Media has notified TVYVR that the possible call sign for the soon-to-launch multicultural TV station in Vancouver is CHNM-TV. Channel M is listed on this site under such call sign, and a search in the list of available call signs for FM and TV stations on Industry Canada's website shows that the "CHNM" calls had been taken. This information has not been officially confirmed; however there has been no indication so far that disproves it. According to its website, Channel M will launch June 27, 2003. TVYVR will continue to report the events leading up to the station's launch.
---
3/27/2003: New Look "Colombie-Britannique Ce Soir"
Radio-Canada's station in BC, CBUFT/26, had adopted the new generic news graphics for its news program "Colombie-Britannique Ce Soir". The open animation, in-show graphics (except for the over-the-shoulder) and the news theme had all been changed. The new generic news graphics had been in use in other regions, like Montreal and Alberta, for a while; and now the lower-third graphics on "C.-B. Ce Soir" match those on network newscast "Le Téléjournal".
4/4 Update: Multimedia files and screenshots of the new look will be available on TVYVR soon.
---
Television News in Vancouver: Right Here. Right Now.