>newscenter yvr: archives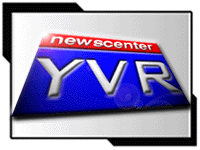 TVYVR needs your help!
Please email the tipline for any INSIDER INFORMATION or CORRECTION.
Anonymity will be guaranteed upon request.
---

10/24/2001: The Ratings Battle
The Bureau of Broadcast Measurement had released the latest rating figures for local TV newscasts. The figures were measured from September 1st to October 14th (figures from same time last year are provided for comparison where available):
Figures*
Movements/ Remarks
Morning:
CHAN-TV
(Morning News)
29,940
Up (different length)
CIVT-TV
(CTV Breakfast)
6,810
Down (different length)
Noon:
CHEK-TV
(CH News at Noon)
12,080
Up
CHAN-TV
(Noon News Hour)
61,240
Up
5pm:
CHEK-TV
(CH News at 5)
44,450
Down
CHAN-TV
(Early News; 30 min.)
99,620
Up
CHAN-TV
(Global National; 30 min.)
33,490
Up (from Canada Tonight)
CIVT-TV
(CTV News at Five)
22,850
Up (different length)
CIVI-TV
(VI Land News; 5:30pm)
5,500
New
6pm:
CBUT-TV
(Canada Now; 6-6:30pm)
34,470
Down (from 37,000)
CBUT-TV
(Canada Now; 6:30-7pm)
37,640
Up (from 35,000)
CHEK-TV
(CH News at Six; 30 min.)
44,450
Down
CHAN-TV
(News Hour)
197,190
Up (from 192,000)
CKVU-TV
(ckvu News)
31,630
Down (from 67,000)
CIVT-TV
(CTV News at 6)
42,910
Up (from 19,000)
11pm:
CHAN-TV
(News Hour Final; 1st half)
76,380
New
CIVT-TV
(CTV National News)
70,310
Down (from 92,310 on CHAN-TV)
CIVI-TV
(VI Land News at 11)
5,430
New
11:30pm:
CHEK-TV
(CH News Final)
12,240
Up
CHAN-TV
(News Hour Final, 2nd half)
41,570
Down
CKVU-TV
(ckvu News)
12,540
Down
CIVT-TV
(CTV News at 11:30)
38,930
New
*The rating figures displayed are the average size of audience per minute.
The newscasts on CHAN-TV remain invincible in all time slots. Even News Hour Final, anchored by Jill Krop, came on top of CTV National News with Lloyd Robertson on CIVT-TV. However, CIVT-TV did improve a lot from its VTV days. Its 11:30pm newscast (with Mi-Jung Lee) closely trailed the second half of News Hour Final on CHAN-TV; and its 6pm newscast, with Bill Good and Pamela Martin (both previously of CHAN-TV), more than doubled in audience. That came at the expense of CKVU-TV, whose 6pm newscast lost more than half of its audience compared to last year.
Meanwhile, the new kid on the block, CIVI-TV "The New VI," did not post a threat to its Island competitor CHEK-TV/ CH.
This ratings report is courtesy of the Vancouver Sun.
---
10/18/2001: No More CTV Breakfast
CTV Inc. announced that it would cut 150 positions, most of them in Toronto. Here in Vancouver, the morning show on BC CTV, "CTV Breakfast," will be axed. From now on, "Canada AM" will be aired in its entirety. Some of the leftover resources from the morning show will be redirected to the main news service. Local news inserts during Canada AM will continue.
Tamara Stanners was the main host of the program, while Jina You handled the news. The cancellation of "CTV Breakfast" leaves Vancouver with only one local morning newscast, "BCTV Morning News on Global" on CHAN-TV.
---
10/15/2001: CKVU's Fate; and Another Race Begins
The CRTC today officially approved the sale of CKVU-TV to CHUM Television, which creates a duopoly for CHUM in the Vancouver/ Victoria market. It was announced back in April that CKVU, then the Global O&O station here in Vancouver, would be sold to CHUM for approximately CDN $125 million. CKVU is currently independent from network affiliation.
Meanwhile, the race for a new multicultural TV license also kicked off. Rogers, which on a couple of prior occasions unsuccessfully applied for such license, will go up against Multivan Broadcasting Corp., a consortium of local businessmen. The CRTC, however, is under no obligation to give out any licenses. TVYVR will continue to follow any new developments on this race.
---
10/15/2001: More Than Just A New Day For The New VI
CIVI "The New VI"'s morning show, "New Day," finally debuted this morning at 7am. Bruce Williams hosted the show on location from a Vancouver Island Regional Library near the station's bureau in Nanaimo. The show ended at about 7:30. "New Day" will remain 30 minutes in length for the remainder of the week. The show will "eventually" be extended to an hour long, as Williams put it.
In addition to the new morning show, the evening news block was also expanded to 90 minutes, from 5:30pm to 7. The last 30 minutes of the block is called "VI Land Voices," where guests are invited to talk about certain topics. Viewers can also express their opinions on those issues by phone, fax or email.
More coverage on "New Day" will be available on TVYVR shortly.
---
10/13/2001: Pamela Martin Joined BC CTV
Pamela Martin debuted on BC CTV Monday, October 8th as the 6pm news co-anchor. She shares the desk with Bill Good. She made her first appearance at around 5:40pm during a preview of the 6pm news during CTV News at Five.
Martin was the Early News anchor on CHAN-TV (BCTV). It was announced in July that she would move to CIVT (VTV/ BC CTV), following a similar move by Bill Good. She did not start on the same date as Good (September 3rd) because of a non-compete clause in her previous contract with BCTV that prohibited her from appearing on other rival stations until 10/8.
---
10/13/2001: The New VI Launch
CIVI-TV/53 Victoria (and re-broadcaster CITT/17 Vancouver), known as The New VI, launched last Thursday, October 4th at 6pm. It started off with a local Victoria choir singing O Canada. The station's launch parties in Victoria and Nanaimo were carried live for 2 hours. Chief news anchors Tasha Larson and Moe Sihota were the masters of ceremony. The station officially opened its doors at around 6:22pm, when the Mayor of Victoria presented its business license. Several Island musicians performed in the parties, including Diana Krall in Nanaimo. CHUM Television's president, Moses Znaimer, attended the party in Nanaimo, while CHUM's most recognized icon, Ed the Sock, paid a visit to the station's main studio in Victoria. Minimal fireworks went off at the station's studio building. According to the station, approximately 3000 people attended the party in Victoria, and 1500 in Nanaimo.
The station's newscasts, "VI Land News," debuted the following day at 5:30pm, anchored by Tasha Larson and Moe Sihota. There was no open animation; just the news theme played over a shot of the control room. Jason Pires and Diane Dakers handled sports and entertainment respectively, while Tony Latimer presented the weather from the station's yacht, The Forbes and Cameron. There was an open animation for the 11pm news with Susan Edgell.
There was an open animation for the weekday 5:30pm newscast after the weekend. Meanwhile, the station's morning show, "New Day," still hasn't debuted. The show was supposed to debut on Tuesday, but Greco Fitness has been aired instead since.
---
9/12/2001: CHNU Test Transmissions
CHNU-TV, the soon-to-launch religious station in the Fraser Valley, had started test transmissions Tuesday, according to Northwest Broadcasters. CHNU-TV announced it would go on the air this Saturday.
---
9/6/2001: Global BC Gets New Reporter
Edmonton news anchor Kerri Adams will move to BC. According to Edmonton Television, Adams, who is currently a weekend anchor at CFRN-TV, will move to Global BC as a new reporter. We'll have more information as it becomes available.
---
Television News in Vancouver: Right Here. Right Now.