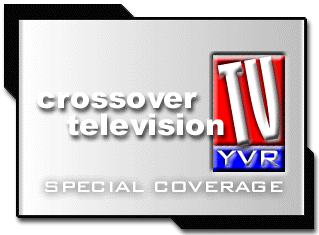 When: September 2001
Where: Vancouver and Victoria, Canada
It was madness. It was insanity. And it was just some TV stations changing names and switching programs. Just what WAS the big deal?
Well, the big deal was that it forever changed the way British Columbians use their TV remotes. It had them go channel surfing as they look for their favorite shows (or favorite news anchors) because all of a sudden they're on a different station. Imagine having to miss your favorite soap opera in the afternoon, or that reality TV show in the evening! It almost could have been a Greek tragedy.
So it IS a big deal. And in fact, all this commotion could have happened earlier (perhaps at a lower magnitude). And all this involve local Vancouver TV stations. It's a once-in-a-lifetime thing. And of course TV Vancouver's here to look into it and cover it.
And now, after the lengthy introduction, TVYVR presents:
CROSSOVER TELEVISION!
Part 1: The Cause
Part 2: The Hypes and Hypotheses
Part 3: Crossover Chronicles
Part 4: Crossover: Continued
---