Dial Position
Call Letters
License City
Network Affiliation
2
CBUT
Vancouver
CBC
4
KOMO
Seattle
ABC
5
KING
Seattle
NBC
6
CHEK
Victoria
Independent (CH)
7
KIRO
Seattle
CBS
8
CHAN
Vancouver
Global
9
KCTS
Seattle
PBS
10
CKVU
Vancouver
Independent
11
KSTW
Tacoma
UPN
12
KVOS
Bellingham
Independent
13
KCPQ
Tacoma
Fox
17
CIVI-TV-2
Vancouver
Rebroadcasts CIVI
26
CBUFT
Vancouver
Radio-Canada
32
CIVT
Vancouver
CTV
42
CHNM
Vancouver
Independent/ Multicultural
53
CIVI
Victoria
Independent
66
CHNU
Fraser Valley
Independent/ Religious
Red denotes broadcast stations licensed north of the border.
Yellow denotes broadcast stations licensed south of the border that is carried on cable systems in Greater Vancouver.
STATION INFORMATION
CBUT | CHEK | CHAN | CKVU | CIVT | CHNM | CIVI | CHNU
---

Channel 2/ CBUT-TV
Cable Channel 3
Network: CBC
Ownership: CBC
Website: vancouver.cbc.ca

CBUT is a CBC O&O station. It's programming is very similar to other CBC O&Os. They identify themselves as "CBC," though officially they are "CBC Vancouver"/"CBC British Columbia." Their local news program was "Broadcast One" anchored by Gloria Macarenko, but because of the budget cut, it was axed and replaced by a nationwide generic "Canada Now" anchored by Ian Hanomansing, which is incidentally produced at CBUT. Gloria Macarenko still anchors the latter half of the show, which consists of local news. Their logo is very logically that of CBC's.
---

Channel 6/ CHEK-TV
Cable Channel 6
Network: Independent/ CH
Ownership: CanWest Global
Website: www.canada.com/victoria/chtv

CHEK-TV was a CBC station when it first launched back in 1956. In the 1950s and 60s, the station installed a transmitter in the Gulf Islands so that its signal could make it to the Lower Mainland, therefore bringing back ad revenue "stolen" by KVOS in Bellingham. In 1963 the station was bought by Frank Griffiths's company (which would later become WIC), and the station switched to CTV in 1981. CHEK-TV became the region's secondary CTV station, mostly time-shifting the shows that were aired on BCTV. CHEK, along with other WIC TV stations, was bought by CanWest Global, and it changed its name to "CH" in September 2001, following the lead the CHCH Hamilton earlier in the year.

In the early- to mid-90s, when the station was still known as CHEK-6, it had a logo resembling a check board. In its CHEK-TV era before the 2001 switch, it used a checkmark logo. It started using the Global crescent logo when it switched to CH, only substituting the "Global" text by the letters "CH." This current logo is also used by CHCH Hamilton, also known as CH.

Previous Station Name(s): CHEK-6, CHEK-TV
(including but not limited to this list)

Previous Network Affiliation(s): CBC, CTV

Old Logos: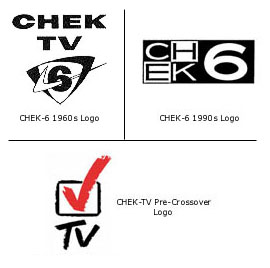 * 1960s logo provided by Matt's TV Guide Page
---

Channel 8/ CHAN-TV
Cable Channel 11
Network: Global
Ownership: CanWest Global
Website: vancouver.globaltv.com

CHAN was one of the founding members of the CTV network. It first went on air on October 30th, 1960. During the 1960s and 70s the station expanded its signals into other parts of the province, and became known as British Columbia Television, or BCTV. At first the station was always in fierce competition with other CTV stations (CFTO Toronto in particular) for the amount of programming to be contributed to the network. The competition eased as time went by, as it became redundant for local affiliates to produce network programming. BCTV had been the market leader for at least the last 2 decades, being the most watched and arguably the most influential station in the province. The station produced the most hours of local news in the market. The News Hour with Tony Parsons had been the highest rated newscast in the province. BCTV, along with other WIC TV stations, was bought by CanWest Global, and the station switched from CTV to Global on September 1, 2001.

During its years as BCTV, the station had used a flower logo (the flower was probably Pacific Dogwood, BC's floral emblem). The flower was updated in the 1990s to look more modern, however the old flower logo was still often seen on mic flags. Since its switch to Global, it has started using the network's crescent logo.

Previous Station Name(s): BCTV
(including but not limited to this list)

Previous Network Affiliation(s): CTV

Old Logos: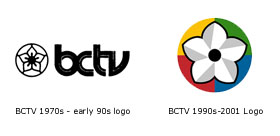 ---

Channel 10/ CKVU-TV
Cable Channel 13
Network: Independent
Ownership: CHUM Television
Website: www.citytv.com/vancouver

CKVU signed on air in 1976 on UHF channel 21 as Vancouver's second commercial station. In 1985 it was allowed to move down to its current frequency on VHF channel 10. In 1988 Israel "Izzy" Asper's CanWest became the station's sole owner. In 1997, CanWest decided that all of its "independent stations that carried similar programming," as the company puts it, should be united under a single name- "Global." CKVU, which up until then was known as U.TV, was not spared from the re-branding. CanWest bought BCTV and CHEK in 2000, and was forced to sell CKVU. It was announced in April 2001 that CKVU would be sold to CHUM Television, and the sale was approved 6 months later by the CRTC. After several months of speculation, CHUM finally announced that the station would be re-branded as Citytv on July 22, 2002. And re-brand it did. Everything from the building's exterior to the newsroom to the Speakers Corner machine to lots of local production (esp. in comparison to the station's Global era)... Moses Znaimer had finally marked his turf in Vancouver.

During its U.TV era, the station used a logo that was simply "U.TV" in a roughly written way. When it was re-branded as Global, it logically took on the Global arc. The ckvu13 logo was, well, just the "ckvu13" text; and currently the Citytv logo is, well, just the "Citytv" text (the same logo used in Toronto).

Previous Station Name(s): CKVU, VU13, CKVU, U.TV, Global, ckvu13
(including but not limited to this list)

Previous Network Affiliation(s): Independent, Global

Old Logos: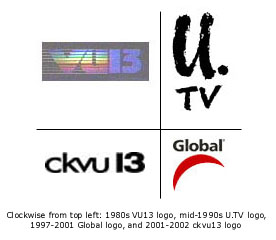 ---
Channel 32/ CIVT-TV
Cable Channel 9
Network: CTV
Ownership: CTV, Inc.
Website: www.ctv9.ca

The CRTC decided in 1996 to give Vancouver its third commercial station. CHUM had been the frontrunner in this race. However, in the end, the license was given to Baton/Electrohome, which entered the race relatively late. The station, located downtown at the corner of Robson and Burrard, launched on September 22nd, 1997 on UHF channel 32. Well, the station looked like something we would expect from CHUM: a hip, lively, local station whose news anchors practically never sit down. That caused CHUM to accuse Baton of copying its station format. Ever since its launch, Vancouver Television (VTV), as it was known, had been destined to become the local CTV station, as Baton planned not to renew CTV's affiliation agreement with BCTV/CHEK in 1999. All the CHUMish stuff at the station was meant to be temporary. In fact, VTV was sort of a semi-CTV O&O, as it often aired programs CTV owned rights to that weren't aired on the BCTV/CHEK combo. The target date for the switch, September 1999, was postponed due to uncertainty in the local TV scene. Baton, now known as CTV, Inc., was finally granted its dream in September 2001, when VTV became BC CTV. However, the "BC CTV" nomenclature didn't last past Canada Day 2002, when the station became simply "CTV", both inside and outside of news.

From 1997 until 2001, the station was known as "Vancouver Television," or more commonly as "VTV." The logo was just the letters "VTV" in different colors placed on a black shape. In some of the short station IDs, a numeral 9 would be displayed, as it was the station's cable channel number. It doesn't like to promote the fact that it's actually on UHF broadcast channel 32. The BC CTV logo was designed in the same way as those of the other O&Os. Since going completely generic, the station logo has been simply the network logo. However, the station does have a "CTV9" logo which is used for print advertisements and on banners for outdoor broadcasts. Station personalities occasionally sport clothes with the "CTV9" logo as well.

Previous Station Name: Vancouver Television (VTV), BC CTV

Previous Network Affiliation(s): Independent

Old Logos: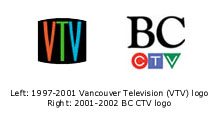 CONTACTS: Click Here
---

Channel 42/ CHNM-TV
Cable Channel 8 (tentative)
Network: Independent/ Multicultural
Ownership: Multivan Broadcasting Corp.
Website: www.channelm.ca

Rogers Communications, the owner of free-to-air multicultural station CFMT-TV Toronto, had for years tried to create a similar station in Vancouver. However, the CRTC had repeatedly denied the company such a license. Rogers applied one more time during the licensing round of 2000 (at which CIVI and CHNU were granted the licenses), only to fail once more. This time, however, the CRTC was under order to review the Lower Mainland's need for an over-the-air multicultural television station, and the Commission called for applications for such a license in 2001. Not surprisingly, Rogers submitted a bid. However, the license was granted in February 2002 to Multivan Broadcasting Corp., a consortium of 5 local businessmen, one of whom owned CHMB AM1320. "Local ownership" was cited as one of the deciding factors (although it was not advertised as a pre-requisite in the call for application). Supporters of the Rogers bid did try to appeal the decision, but it was rejected. That, however, did set CHNM's launch a few months back. The station launched on June 27, 2003, broadcasting from the corner of East Pender and Columbia Streets in Vancouver's Chinatown.

Had Rogers won the bid, the station would have been known as "LMtv", short for "Local Multilingual Television". As it stands, the station is currently branded as "Channel M", with the logo basically being a lower case "m" surrounded by a sort of whoosh.

"LMtv" logo under the Rogers bid.
---

Channel 53/ CIVI-TV
Cable Channel 12
Network: Independent/ A-Channel
Ownership: CHUM Television
Website: www.achannel.ca/victoria/

In 2000 the CRTC gave out 2 TV licenses to Southwestern BC out of the 5 applications. One of the TV licenses was given to CHUM Television, under the call letters CIVI. It was expected that CIVI's schedule would consist of series from smaller American networks (eg. WB, UPN) as well as lots of local news. The expectations were lived up to, as CHUM decided to call the new station The New VI, using the same branding scheme that was applied to CHUM's stations in southern Ontario (except CITY-TV). The New VI was launched on UHF channel 53 on October 4th, 2001.

After CHUM purchased the Craig Media stations in the Prairies, it assumed control over the "A-Channel" branding, which it then implemented on its NewNet stations, including VI, on August 2, 2005. Ironically, Craig Media was also one of the companies that lost out to CHUM for the station's license; perhaps the station was destined to be A-Channel after all.

The station's logo as The New VI was just a "The New VI" text, with the "VI" being exceptionally large. The logo design also followed that of the other CHUM stations in Southern Ontario. It changed to its current logo when it rebranded as A-Channel in 2005.

Old Logo: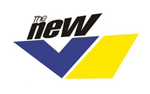 "The New VI" logo (2001-2005)
CONTACTS: Click Here
---

Channel 66/ CHNU-TV
Cable Channel 10
Network: Independent/ Religious
Ownership: Trinity Television
Website: www.nowtv.ca

This religious TV license was given to Trinity Television in 2000. Originally the "CFVT" call sign was requested, but it was later dropped. Now the station's official call sign is "CHNU." The station airs 48 Hours and Dateline. Religious programs come in the forms of talk show, comedy, current events, and so on. The station was launched in September 2001.

The station's on-air brand in "NOWTV." The logo is pretty much the "NOWTV" text, with a TV set substituting the "O".
---
Television in Vancouver: Right Here. Right Now.