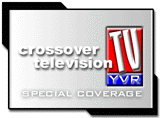 Crossover: Continued
No, that was not all. While some American cities (like Baltimore, Miami, and I dare not forget Phoenix) had also undergone similar if not even more drastic affiliation switches, what made this one in BC so significant was that it was part of a bigger, more confusing TV mess, which the now defunct Stickguy website referred to as "Insanity."
The switch almost coincided with the launches of 2 new TV stations in the area: CHNU-TV/66 (NOWTV), a religious station in the Fraser Valley; and CIVI-TV/53 (with rebroadcaster CIVI-TV-2/ Channel 17), "The New VI," on Vancouver Island.
And as if the affiliation switch and the new stations were not already confusing enough, Shaw Cable decided to standardize the cable channel lineup in the Lower Mainland on the same day as CIVI's launch. The North Shore and White Rock, which up until then had a separate cable channel lineup, adopted that of the rest of the Lower Mainland.
All those factors combined made for maximum confusion for viewers, and it's highly impossible that this confusing scene will be repeated anywhere else on the continent ever again. That's why it drew so much attention. In fact, it was so big of a deal that even CTV's Lloyd Robertson would have anchored the CTV National News from here in Vancouver for one week in September, had the events of September 11th never happened.
(As a side note, the webmaster, who lives on the North Shore, still had not entirely gotten used to the new cable channel lineup until several months later. Shaw continued to standardize its cable channel lineup on Vancouver Island, where the lineups in Port Alberni and Comox Valley-Powell River were assimilated with the one in Nanaimo.)
The new local newscasts rating figures by BBM were released in October 2001. To no one's surprise, CHAN-TV remained invincible in all time slots. Even the expanded News Hour Final came on top of CTV National News on CIVT. However, CIVT did improve a lot from before the switch. Its 6pm newscast, with the new pairing of Bill Good and Pamela Martin (both previously of CHAN), more than doubled in audience numbers. Its 11:30pm newscast almost tied with the second half of CHAN's News Hour Final, losing only by about 3000 viewers. The biggest surprise came from CKVU, whose 6pm newscast lost more than half its audience. Over on the Island, newcomer CIVI posed no threat to CHEK.
But even with generally improving ratings, CIVT still had to cut its program lineup as a result of CTV's network-wide "restructuring" (we all know that's corporate speak). Its morning show "CTV Breakfast," which had been around since the station's launch (under the name Vancouver Breakfast), was axed. They said that the leftover resources from the show were redirected to the main news service.
Well, this would have been the end of our Crossover Television coverage. However, we all know so well that one station has yet to see its most significant change: CKVU. What happened before, during and after its switch from "ckvu 13" to "Citytv"? The following part of our Crossover journey answers that question. We will also look at some changes that other stations faced a year after Crossover.
Before we continue, you may want to take a rest from all this reading and go for a toilet break or a cup of coffee. (Or you may actually want to do those in reverse order.) Otherwise, here it is:
Crossover 2002: From ckvu 13 to Citytv
and
Crossover: Concluded?
<< Back | Crossover Chronicles
Crossover 2002/ Crossover: Concluded? | Next >>
---