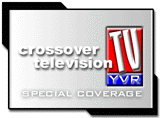 The Hypes and Hypotheses
When CanWest's acquisition of WIC's TV stations went through in 2000, it made headline news in Vancouver. The possibility of an affiliation switch, in fact a major one, was finalized, and made public. However, with more than a year to go before all the mess, people paid little attention.
Just when people were not noticing, several changes took place, a couple of them unknown to general viewers in BC. In 2000, Robert Hurst, former interim Senior VP of CTV News, became CIVT's General Manager, while CTV's Halifax Bureau Chief Tom Walters was brought in as the station's News Director.
In late January 2001, Global announced at the BCTV studios that Kevin Newman would join the network from ABC as the anchor for the new network national newscast, which would be produced right here in the Lower Mainland at BCTV.
"First National," Global's multi-market newscast shown in Ontario and Quebec, was scrapped in February. Now the BCTV-produced "Canada Tonight" was seen in Eastern Canada instead.
Also in February, CHCH in Hamilton, a former WIC-owned station that went by the name "ONtv," was re-branded by CanWest as "CH." A National Post article reported that CHEK-TV in Victoria would also go by the name "CH" come September, and apparently that was what the execs were thinking.
CanWest had been slow in finding a new owner for CKVU. It kept requesting that the sale deadline be postponed. It was reported by Playback Magazine in January that CHUM was apparently out of the race for the station, as Craig Broadcasting and Rogers Communications became the frontrunners. However, that report was later deemed inaccurate, as it was announced in April that CKVU was sold to CHUM at approximately CDN $125 million.
After that it seemed obvious that CHUM would convert CKVU into Citytv Vancouver, as it had been the company's dream for quite some time. However, the sale was pending the CRTC's approval, and it would be months before everything would be over and done with. So an arrangement was worked out on CHUM's part, as the company's gesture of respect for the ongoing process, that it would become the station's programmer and sales rep effective September 1st. However, a neutral brand, associated with neither Global nor CHUM, would be used by CKVU. The re-branding of the station into anything suggesting a CHUM relation would not take place until fall 2002.
CIVT really shined during the BC provincial election in May. It kicked off its special coverage at 7pm on election night, following "VTV News at Six." It was dozens of minutes ahead of CBC, which was carrying a hockey game, and about an hour ahead of BCTV/CHEK, both of which began their coverage at 8pm. CKVU, to my knowledge, didn't even have a special election night coverage. CIVT had dozens of reporters live on location throughout the province, and even had 2 former premiers (including the controversial Glen Clark) live in studio for commentary. It seemed obvious what Robert Hurst and Tom Walters wanted to accomplish: to establish CIVT as the station people can turn to for news.
More prominent changes in local TV starting occurring in May. It was announced in mid-May that Bill Good, the anchor of BCTV's "Canada Tonight," would join CIVT in September as an anchor. His colleague Pamela Martin also left the chair at BCTV's "Early News" to pair up with Bill on CIVT. Mike Killeen would also move here from CKVU. Meanwhile, in mid-June, it was officially announced that VTV would become CTV British Columbia, effective September 1st.
CTV British Columbia Pre-Launch Promo
"ckvu News" Promo
"BCTV Goes Global" Promo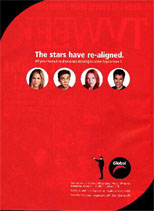 Global's full-page ad in TV Week advertising its move to BCTV.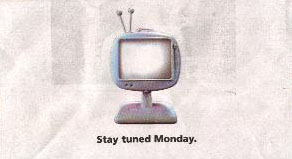 CH pre-launch ad in The Province.
CH Pre-Launch Promo
The cover of TV Week, September 1st to 7th edition.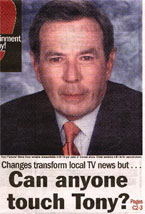 The front page of The Province's entertainment section, 8/26.
---
Proud of the fact that it would become BC's CTV outlet, CIVT was the first station to run promos announcing the switch. There were several different promos. Some shorter ones played in mid-July had the voiceover: "There's something new building in BC. Watch for it." Other promos ended with this line: "Coming to the corner of Robson and Burrard September 1: CTV." CTV fall trailers also started airing.
Over at CKVU, the station's sportscast "Sports Page" would move to CHEK-TV in Victoria. (CHEK is known as CH after the switch.) And CKVU's sports anchors decided to leave the station as well. Barry MacDonald and Sean McCormack would move to CH along with Sports Page. Blake Price headed for TSN. While Sean McCormack stayed with CKVU through its last day as Global, the station had been frantically trying to hire replacements. Finally 2 weeks before the Switch, the station hired Deb Matejicka and Dan O'Toole.
While CKVU's sale to CHUM was still pending the approval of the CRTC, it was announced in August that the station's new name, effective September 1st, would be "ckvu13," showing CHUM sticking to its promise of not renaming the station into anything suggesting such ownership. And with the new name announced, CKVU started running a promo, telling viewers that most of the station's on-air news personalities would remain where they are, and urging viewers to stay with the station's newscasts. The promo was the first hint that the station's news operation would be renamed "ckvu News," and that the news operation would maintain the majority of its on-air look (including the wire-frame globe motif). The station also started showing fall trailers bearing the "ckvu13" name and the new colour scheme.
As a result of the departures of Pamela Martin and Bill Good, BCTV announced a series of changes in its talent lineup. Deborra Hope would move to Early News and Randene Neill would be promoted as the Noon News Hour anchor. Ted Chernecki would move back to reporting, Jill Krop would anchor News Hour Final on weeknights, and Suzette Meyers would rejoin the local TV news scene as the weekend anchor on the station. Steve Darling would join Lynn Colliar on the Morning News, and Jay Durant would arrive from Alberta as the station's new weekend sports anchor.
I myself am not sure of when BCTV started airing pre-switch promos. (I was on vacation.) However, I did catch in late-August some "BCTV Goes Global" promos, in which Global's new "Everyman and everywoman" ident designs were first seen. (Also according to a message at the KuSats forum, BCTV ran some pre-switch promos using the "countdown" style a la WIC Alberta in 2000. However I'm not in the position to confirm that.) The fall trailers made no mention of either BCTV or Global. Billboards on the streets and print ads had the lines "The stars have re-aligned.", "Moving September 1st." There were even various channel listings for CHAN-TV on the print ads. The name BCTV was not mentioned anywhere.
Over on the Island, it was confirmed that CHEK-TV would become "CH." Bruce McAllister, from Global Atlantic (CIHF-TV), would arrive at the station as the noon news anchor, as well as a co-anchor on the new 6pm newscast. The other co-anchor at 6 would be Meribeth Burton. Hudson Mack would solo-anchor the 5pm news, and Sophie Lui would remain at 11:30pm. The station also started to run promos in August. The promos involve the old checkmark logo (displayed on a TV screen) somehow melting away, giving way to the new "CH" logo. (Similar promos were apparently also used on CHCH-TV in Hamilton back in February 2001 when it was preparing to switch to CH.) Such promos also appeared on billboards and in print in the Lower Mainland.
There was also a joint TV ad that told viewers about the switch, and urged them to check www.shaw.ca for more information.
Meanwhile, with about a week to go before the big occasion, the press started mentioning the switch. The cover story on the September 1st-7th edition of TV Week (usually published several days in advance) was indeed the switch. The magazine went into the backgrounds of the involved stations, as well as changes coming to those stations. (It was also the first to correctly identify CIVT as "BC CTV.") The magazine even had CHAN-TV anchor Jill Krop posing for the cover. (Oddly enough, they said she would stay on the weekends when in fact she would be moving to weeknights.) TV writer Dana Gee also wrote several articles about the switch, published on The Province August 26th.
After the intriguing preparations, we now countdown to the real thing...