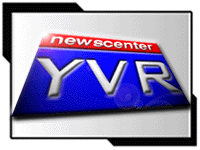 TVYVR needs your help!
Please email the tipline for any INSIDER INFORMATION or CORRECTION.
Anonymity will be guaranteed upon request. Please specify if there is any part of your message that you don't wish to be published.
NewsCenter YVR Archives:
September - October 2001
November 2001 - January 2002
February - March 2002
April - June 2002
July - September 2002
---

2/10/2003: The Ratings Battle: Fall 2002
The Vancouver Sun's TV critic Alex Strachan reported on the local TV news ratings for the fall season, as compiled by the Bureau of Broadcast Measurements. The figures of viewers 18yrs+ are as follows:
| | | |
| --- | --- | --- |
| | Fall 2002 | Fall 2001 |
| 6pm | | |
| CHAN-TV (Global) | 209,400 | 200,800 |
| CHEK-TV (CH) | 43,400 | 48,400 |
| CIVT-TV (CTV) | 41,800 | ~39,800 |
| CBUT-TV (CBC) | 30,300 | 32,600 |
| CKVU-TV (Citytv) | 18,700 | 28,000* |
| CIVI-TV (The New VI) | 4,700 | 3,700 |
* as "ckvu13"
The above figures were measured between Sept. 2, 2002 and Jan. 26, 2003. Only the figures for the 6pm newscasts were listed in Strachan's column.
CHAN-TV claimed a 27 share in any given minute during the 6 o'clock hour (one share represents 1% of entire available audience with sets turned on), and saw its 6pm numbers raise by about 4%. CIVT also saw its numbers higher from the previous year, with an increase of about 5%; and while its numbers in the 18yrs+ category is lower than that of CHEK's, it actually has a higher rating among viewers 25-54yrs than CHEK. Speaking of CHEK, its number dropped by about 10% in the 18yrs+ category, while its Island counterpart CIVI experienced an increase of about 27%, although the actual distance separating the 2 is still quite substantial. CKVU, on the other hand, continues its slump, even after the change to Citytv. It saw a decrease of about 33% in the 18yrs+ category.
No figures for the other time slots were available in the column; however, in an interview with TV Week 2 weeks ago, CIVT late night anchor Mi-jung Lee mentioned that CIVT ranked a close second behind News Hour Final on Global, separated only by 1 rating point.
Thanks to Gordon Rudd
6pm figures courtesy of Alex Strachan/ The Vancouver Sun
---
1/5/2003: Channel M Hires News and Sales Directors
Channel M had announced the appointment of Teresa Wat and Bruce Hamlin as the station's News Director and Director of Sales respectively. Wat was most recently the Chief Operating Officer and General Manager of AM1320 CHMB, while Hamlin was most recently the Senior Account Manager for the Rogers Media's Greater Vancouver Radio Group.
More from Channel M
---
12/19/2002: Deadline For Channel M Launch Extended
Multivan Broadcast Corporation filed for an extension of time limit to begin operation of Channel M, the new multilingual station in Vancouver. The CRTC had approved the application, and now the station must go on air no later than August 31, 2003 unless MVBC requests another extension. Meanwhile, the station is now advertising on its website that it will go on air on June 27, 2003.
Courtesy: Northwest Broadcasters
---
12/10/2002: Dan O'Toole Leaves CKVU
Sources have told TVYVR that Citytv (CKVU) sports anchor Dan O'Toole had left the station for TSN. His last show was last Friday. The station has already altered the open animation to CityPulse at Six to exclude the shot of O'Toole. Mike Bow handled sports duty on Monday's newscast. TVYVR does not know who will be the official replacement for O'Toole as of yet.
---
12/6/2002:
Personnel Changes At CHAN and CKVU
The Province's TV writer Dana Gee reports that CHAN's noon news producer, Danielle Suter, will move to CKVU as a story producer for CityPulse at Six. Meanwhile, Sophie Lui will permanently take over the weekend morning and noon newscasts.
New VP/GM At CIVT
CTV has announced the appointment of Jim Rusnak as the new vice-president and general manager of CIVT/32, effective January 1st, 2003. Rusnak was previously the president of Western Operations of the Global Television Network. He replaces Robert Hurst, who was appointed the president of CTV News.
from Broadcaster Magazine/ via Northwest Broadcasters
---
10/15/2002: New Graphics on "CH News"
CH News has started using a new set of on-screen graphics. The color scheme on the new graphics consists mainly of gold and orange. The new set of graphics includes open titles, full-screen graphics and lower-third name graphics. It also appears a new news theme is being used. However, the news set remains the same, and the station still does not use either an on-screen bug or an over-the-shoulder graphic during the news.
Screenshots and video of new look "CH News" have been posted on this site.
---
10/4/2002: Kerri Adams To Move To CIVT
Sources have told TVYVR that Kerri Adams, the weekend morning and noon anchor on CHAN-TV/ Global BC, has left the station for a reporter and fill-in anchor position at CIVT-TV/ CTV. Global BC's replacement for Adams should soon be announced; for the time being Steve Darling should fill in on this weekend.
Kerri Adams came to Vancouver last year from Edmonton, where she was the weekend anchor at CFRN-TV, the CTV O&O there. TVYVR will continue to follow any new developments on this story.
As a sidenote, Adams will join another former Edmontonian at CIVT. Rob Brown, formerly of CITV/ Global Edmonton, has started at CIVT as a reporter.
---
Television News in Vancouver: Right Here. Right Now.